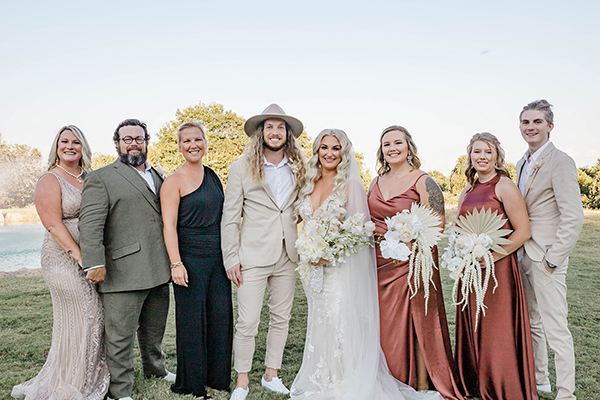 Veterinarian, Owner
Dr. Johnny Needham is a veterinarian and started here in 2016. He became the owner of the practice in 2020. He is a native of Texas and originally grew up in Coleman. He moved away to attend school but eventually returned home to practice at the Coleman County Vet Clinic in 2005. Like most Texas Veterinarians, he is a proud Aggie! GIG 'EM! He played football for Sol Ross University before wising up and moving to College Station. Interesting fact, Dr. Needham doesn't have a Bachelor's Degree. He was accepted to vet school before completing a Bachelor's and it was not a requirement. So, he skipped right on past and was awarded a Doctorate of Veterinary Medicine!
Dr. Needham grew up on a farm with many animals. One day a goat of his got sick and so he called Dr. Mike Edington (who eventually became his boss in Coleman) to come out and take a look. He was amazed by the fact that Dr. Edington could look over the goat, go to his truck to grab medicine, give the goat a few shots, and ah-ha the goat was cured in just a very short time. That is the story of Dr. Needham's first sparked interest in vet med. Although he originally had planned to graduate with a physics major in college, he kept remembering how Dr. Mike cured his goat so quickly. The veterinarians in charge of the range animal science department pushed him to change his major, which he did when he transferred to Texas A&M.
There was not really any one instance that made the light bulb shine to indicate that he is in the right profession. He just works hard every day, practices the best medicine he can, and does what is right for the patient and the client. As a veterinarian, Dr. Needham is a member of TVMA, AAVMA, AVMA, and TEVA. He finds interest in Small Animal Reproduction, Beef Cattle Production, and Small Animal Soft Tissue Surgery. His newest professional internet is in Whitetail Deer Farms.
Dr. Needham is married to his Practice Manager, Misty (she's the boss at work and at home) and they have 6 adult children. Two of their children practice medicine outside of the veterinary world. The large animal pregnancy checking, the 2 a.m. emergency calls, and the draining of cow abscesses quickly turned them all away from the veterinary industry.
Dr. Needham thoroughly enjoyed his time as the Texas A&M pistol coach. Not only did he get to coach some amazing athletes, but he was also able to coach his own daughter on that team. He coached various shooting sports for 4H and was awarded the Adult Silver Clover Award from 4H for his volunteerism and work with young athletes interested in shooting sports. He holds a Lifetime Membership with the NRA. He became a member of the High Caliber Club through the Friends of the NRA from his efforts of chairing the annual Coleman County Banquet. His children once gave him a "Best ATM" statue and he wasn't sure how to respond other than "you're still breaking the bank!"
Other than shooting sports, Dr. Needham enjoys tinkering in his woodshop, never finishing his honey-do list, and spending time with friends.
Dr. Stanley Montgomery Ancinec
Veterinarian, Former Owner
Dr. Stanley Montgomery Ancinec has been a veterinarian at CCVC since 1980. He started working at Brown County Animal Clinic in 1977 after graduation and left in 1980 to come to Callahan County. He is Czechoslovakian and attended Loop High School. After graduation, he attended South Plains Junior College and then transferred to Texas A&M University where he completed his undergrad. Dr. Stanley eventually graduated from Vet School in 1977. When he graduated, he was moving to Brownwood, San Angelo, or the Abilene area because that is as far West as you can go and still have TREES! He has enjoyed working with clients and animals of all kinds. Dr. Stanley likes to fix things and when animals respond to treatments; it is very satisfying and rewarding. Dr. Stanley's family includes Pam, whom he has been married to for a long time. They have two adult children: Barrett and Hayley.
Practice Manager
Misty is the Practice Manager and Partner. She joined the CCVC team in 2019. Misty is an Okie! Her hometown is most famous for its casino. When the center was first built it was called Touso Ishto Gaming Center and was a small bingo hall. It has grown just a bit since the '90s and is now named WinStar Casino. She has lived in many states until she and Dr. Needham became permanent transplants in 2018.
In 2019, Misty's husband excitedly called to tell her he had the perfect Valentine's gift for her. After a few wrong guesses, she finally gave up and asked what her perfect gift was. He enthusiastically proclaimed he had gotten her a job at the vet clinic for Valentine's! A job? Working with him every day? Well, she quickly thought that is the gift that keeps on giving every payday, and how she missed him dearly because he works all the time. Folks, that is how she began working as a paid employee in the veterinary industry. Prior to that fabulous present, Misty was her husband's "free" helper during overnight calls and weekends. She has enjoyed every minute of this job (paid or not). Even when she was sprayed in the mouth with tomcat pee and taste-tested horse's teeth, she has been blessed by this industry! It's truly heartwarming that their patients love to lick, wag their tails, and don't complain about anything! On their worst days, their patients are always super excited to see us!
Misty and Dr. Needham have 6 adult children and they gained a son-in-law in September 2021. You can read Dr. Needham's bio for more information about that! HA! She and Dr. Needham like to go to the gym, work on home improvement projects, travel with friends, and just hang out. She put a lot of miles on the road visiting family and friends as well. Misty is passionate about making their clinic the best it can be! She loves attending conferences, picking the brains of the more experienced, and reading the latest and greatest books pertaining to vet med. She enjoys finding peer-reviewed studies and research papers and discussing the findings! Misty also attended Columbia Southern University on a very part-time basis to study business with a focus on hospitality and tourism. One day, she wants to retire to Belize and open a resort! A girl can dream, right?
Lead Veterinary Technician
Bio coming soon!
Veterinary Technician
Camri was born in Beaumont, TX and moved to the Callahan County area around the age of 10. She went to Clyde until Junior year of High School and graduated from Abilene High School's GED program. She chose to apply for Vet Medicine due to her strong interest in animals even as a kid. Her favorite thing about working with animals is helping someone's pet stay healthy so it can live a hopefully long and happy life! Camri has always had a gigantic heart for animals even as a kid. She knew the moment was right when she applied for her 1st Vet Tech Job in Abilene, TX in 2019.
Camri has a huge family and most of them reside in Clyde or Baird, TX. She has two beautiful girls and an amazing husband who she adores very much and takes out every chance that she gets. They love to camp, float down rivers, and do anything outdoors.
Veterinary Technician
Avie moved from Colorado where she had been in the animal field for the past 5 years. She obtained an animal neonatal certification from Colorado State University, as well as having been a vet tech for the past 5 years.
She started working in the veterinary field after helping out the vet at her grandparents' ranch. She has always had a love of animals and finds medicine fascinating. Her favorite thing about working with animals is that there is always something new and exciting happening. There is never a dull moment.
Avie knew she was in the right profession when she found she was able to always look forward to her job. Even after a hard day or week, she still loves what she does.
She has a small ranch out southwest of Abilene, and raises all sorts of animals. She has a wonderful toddler who fancies himself a ranch hand, and a house full of dogs and cats.
Receptionist
Carrieann's little tribe has happily lived here in Callahan County for over ten years. She grew up on a planet far far away and joined the human race when she fell in love with a human male. She married and had two female offspring. She loves all the animals of this planet, especially the ones we call "man's best friend". Carrieann also likes the domestic felines; she can see why we worship them. She found this job to be perfect in her lifelong mission to observe and report on the human beings and animals of this planet.
She feels truly blessed to be here at Callahan County Vet Clinic. She loves her work family and loves coming to work every day…you never know what's going to happen!!
Receptionist
Daphne comes from the small town of Tye, Tx where she went to Merkel middle school. During her freshman year of high school, her family decided to move to Clyde Tx where she has been ever since.
Daphne began working in the veterinary industry as she has always had a soft spot for animals of all kinds.
Daphne knew she was in the right profession when she looked forward to coming to work every day since there is always something new and exciting to learn and see. Daphne is beyond blessed to be a part of such an amazing practice.
Outside of work, Daphne loves to spend most of her time with her loved ones. During the summertime, her and her family usually do a lot of fishing, camping, and going to the beach.